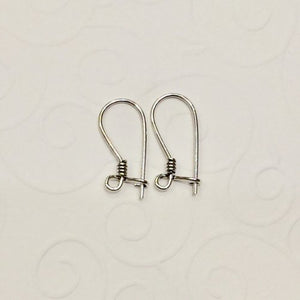 Sterling Silver Earring Kidney Ear Hook
Are you afraid that fashion jewellery components trigger allergic reactions when you wear them?
Do you desire the diversity and the unique style fashion jewels provide?
You don't have to give them up! Choose a pair of silver hook with the targeted earrings! I'll switch them for you and you'll receive the earrings with the new silver hooks!
This type is a massive, strong hook which you can clasp safely. It's made of a tiny bit thicker and stronger wire  than our AcFu 001 hook. If the holes in your ears are tiny (just like my daughter's) than you should choose the other hook but if you don't even know what I'm talking about because you never had this problem (just like me) than you can surely choose this type.
PLEASE NOTE THAT WE DO NOT SELL THESE INIDIVIDUALLY, ONLY AS AN ATTACHED PRODUCT TO OUR HANDMADE EARRINGS!
People who bought this product, also bought