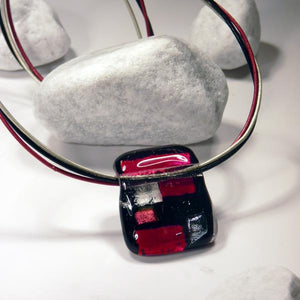 Handmade Small Red Black And White Fused Glass Necklace with Dichroic
$2030

$20.30
Tax included.
---
---
Square shape chili red, coal black and snow white fused glass mosaic necklace, decorated with dichroic glass.
The intensely shining dichroic glass gives an extra sparkle to the colourful, shiny glass jewel. The panels are hand cut, layered and fused together. Three leather cords of matching black, red and bronze are holding the pendant. This small size pendant unwittingly attracts attention because it is delicate and ladylike. 
Dichroich glass is glass containing multiple micro-layers of metals or oxides which give the glass dichroic optical properties. The main characteristic of dichroic glass is that it has a particular transmitted color and a completely different reflected color, as certain wavelengths of light are either passed through or reflected. This causes an array of color to be displayed. The colors shift depending on the angle of view.
---
How to care for this jewel
It is made of glass and the cord is made of 3 leather strings so if you follow the golden rules of taking care of your jewelry below, it should not require any maintenance. Howevery from time to time you may wish to clean the leather cord with leather care.
Please note
this necklace is fragile
spray your perfume 20 minutes prior to putting on your accessories
never take a bath/shower with your jewelry on because moist is harmful even to noble metals
when you take it off, keep your jewelry in the darkest, driest area of your home to maintain its original beauty for a long time
People who bought this product, also bought